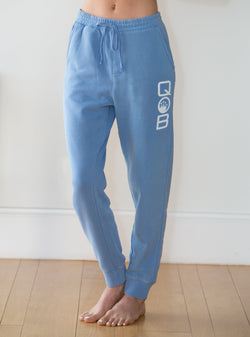 Miramar Queen of The Beach Pigment Dyed Jogger
NEXT LEVEL APPAREL: Designed by Olympian and World Champion Sinjin Smith: The beach is more than just a place, it's a style. The awe-inspiring natural beauty, the power of surging waves, the inviting sands. Do you have what it takes to be Queen of the Beach?
SUPERIOR STYLE: These joggers have a classic comfortable cut and a white digitally printed QOB logo on the leg. Our sweatpants have an upscale casual feel and are complete with a cinch waistband and pockets.
BETTER QUALITY: We use a soft blend of 80% cotton and 20% polyester to create a more comfortable casual pant that will be your new go-to Jogger. Get a better class of beach wear from Queen of the Beach.
YOUR PERFECT FIT: Find the right size for you. These joggers are available in extra small (XS), small (S), medium (M), large (L), and extra large (XL). Wear your fit with confidence.
THE QUEEN OF THE BEACH LIFESTYLE: Queen of the Beach was founded in 1983 with a dedication to the beauty and lifestyle of the beach. We design apparel, volleyball equipment, accessories, and more that are fit for the Queen or King of the Beach Lifestyle.